STOCKHOLM ARLANDA AIRPORT | GUIDE TO STOCKHOLM ARLANDA AIRPORT (ARN)
Origin
Airline
Flight no.
Scheduled
Est./Actual
Status
No flight arrivals were found at Stockholm Arlanda Airport.
Destination
Airline
Flight no.
Scheduled
Est./Actual
Status
No flight departures were found at Stockholm Arlanda Airport.
Car Hire at Stockholm Arlanda Airport
UNBEATABLE VALUE CAR RENTAL
Free Amendments | Free Cancellations | No Card Fees




Stockholm Arlanda Airport - All Information on a Stockholm Airport (ARN) Stockholm Arlanda Airport
190 45 Stockholm-Arlanda, Sweden
phone +46 10 109 10 00
phone+46 10 410 02 00 (Lost + Found)
emailarlanda@swedavia.se
call_end+46 8 797 6984 (fax)
Facts and History about Stockholm Arlanda Airport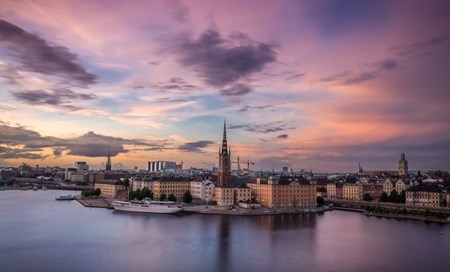 Arlanda Airport is an international airport in Sweden, serving Stockholm County and the province of Uppland. The airport is the largest airport in Sweden and the third-largest airport in the Nordic countries based on passengers per year. Stockholm Arlanda Airport is located 23 miles/37 kilometers north of Stockholm and nearly 25 miles/40 kilometers southeast of Uppsala. It is situated in the Sigtuna Municipality of Sweden, which is close to Märsta city.
The official address of Stockholm Airport is Stockholm Arlanda Airport, 190 45 Stockholm-Arlanda, Sweden. You can call the airport for any customer information at the telephone number: +46 10 109 10 00.
Stockholm Arlanda Airport carries the international airport code of ARN (IATA), ESSA (ICAO) and ARN (FAA LID). The airport sits in a slightly elevated location only 137 feet/42 meters above sea level at 59°39′07″ N and 017°55′07″ E.
The airport in Stockholm served 26,846,720 passengers in 2018 and had 216,685 aircraft movements.
Stockholm Airport is assisting both charter flights from European cities and scheduled flight routes during the year. Passengers can also get to a wide range of intercontinental destinations from the airport.
The biggest carrier at Stockholm Arlanda Airport is Scandinavia Airlines (SAS) that offers flights to and from more than 50 different airports including Aarhus, Alicante, Amsterdam, Athens, Bergen, Berlin–Tegel, Billund, Brussels, Copenhagen, Dublin, Edinburgh, Gothenburg, Hamburg, London–Heathrow, Luxembourg, Málaga, Nice, Paris–Charles de Gaulle, Prague, Stuttgart, Trondheim, and Zurich plus more than 30 seasonal destinations. Furthermore, Norwegian Air Shuttle operates at ARN Airport with flight routes to and from destinations such as Amsterdam, Barcelona, Bergen, Budapest, Copenhagen, Dublin, Gran Canaria, Helsinki, Kraków, Lisbon, Málaga Manchester, Nice, Prague, Riga, Tel Aviv, and Vilnius. They also serve a variety of seasonal flight routes. The airport serves as major hubs for both Scandinavian Airlines and Norwegian Air Shuttle.
Stockholm Airport operates three runways; Runway 1, Runway 2, and Runway 3. The airport can manage simultaneous takeoffs and landings working runways 1 and 3 at the same time.
All passengers will find four terminals at the airport. Terminals 2 and 5 are utilized for international flights while Terminals 3 and 4 are used for domestic flights. There are free shuttle buses known as Yellow Shuttle Buses that can take passengers between the terminals, hotels, and the parking facilities. They run with a frequency of 15 minutes.
Arrivals, Departures and Airlines at Stockholm Arlanda Airport
Terminal 2
Also known as, the International (Arlanda South) Terminal provide access to gates 61 – 72 and gates 86 - 87.
Terminal 3
Is the regional domestic (Arlanda South) Terminal providing all passengers access to gates 51 - 59.
Terminal 4
Is the Domestic (Arlanda South) Terminal including gates from 30 - 44.
Terminal 5
The final terminal is the International (Arlanda North) Terminal, which is the largest of the terminals and gives access to gates 1 – 24 and gates F26 – F69.
Stockholm Arlanda Airport Ground Transportation
The Stockholm Arlanda Airport is accessible by road from Stockholm center by taking the E4 northwards and follow signs towards the airport. From Uppsala, you should follow E4 southwards and follow the signs towards the airport.
Transfer to and from Stockholm Airport
All passengers traveling to and from Stockholm Airport can enjoy easy and convenient transfer options. Here you will find a various assortment of transportation opportunities, including:
Hotels near Stockholm Arlanda Airport
There are a number of hotels to suit all budgets and requirements at or near Stockholm Arlanda Airport.
Parking at Stockholm Arlanda Airport
See options for parking services at Stockholm Arlanda Airport.
Practical Information about Stockholm Arlanda Airport
Additional Services and Amenities:
At Stockholm Arlanda Airport you will find the usual array of bars and restaurants, airport lounges and shops.
WiFi connection:
All travelers can enjoy free WiFi connection at Stockholm Airport in the terminal area including both sides of security. There will also be WiFi connections everywhere in the restaurant and retail areas.
To get online, simply set the wireless network to; Airport-Guest WiFi. Then launch a web browser on your device where you will visit the welcome page. Please follow the instructions on the screen and you will be all ready to surf around the internet. You will need to enter your email address to access the WiFi.
Passengers can surf at no charge for three hours on the airport's WiFi network.
If you encounter any problems connecting or have any other questions about the network, please contact the WiFi support service at ARN Airport on telephone number: +46 (0)10 109 04 50. They are open Monday – Sunday from 06:00 am to 10:00 pm.
Smoking:
Smoking is only allowed in designated areas outside the terminal at Stockholm Airport. Passengers will find several smoking areas inside the terminal after security. These include:
Terminal 2:
On the entrance floor, after security right by the stairs.
Entrance A, beside the Runestone on level 3
Upstairs at 'Himmel & Bar' smoking cabins.
Terminal 4:
On lower level near gate 30. Just before the transfer bus terminal.
Terminal 5:
Near gates 3, 7, 13, 15, 19, 30, F31, F65, and F67.
Duty-Free shops:
At Stockholm Airport, all passengers can find a broad assortment of duty-free products from some famous brands around the world. There will be everything from skin-care products, cosmetics, fragrances, sweets, tobacco, and alcohol.
You can find six Duty-Free stores at Stockholm Arlanda Airport. One store in Terminal 2, one in Terminal 4, and four duty-free shops in Terminal 5.
If you would like to save some time while you are at the airport, you can pre-book your tax-free items. This can be done by using the Reserve & Collect service, which allows you to collect your items at the airport before departure.
You can contact the department at CustomerServiceSweden@se.dufry.com
Lost and Found:
If you have lost anything within the public areas or ground transportation areas at Stockholm Airport, you can report it to the lost and found department called Bagport. They are located on level 1 in Terminal 5, and open daily from 05:00 am to 11:00 pm.
If you need to report any lost items from an airplane, please contact that specific airline.
Stockholm Arlanda Airport's website
Looking for more information about Stockholm Airport? You can always visit Stockholm Arlanda Airport's official website here: https://www.swedavia.com/arlanda/
Furthermore, if you have any questions or would like to get in contact with a member of the staff, you can contact the airport at telephone number: +46 10 109 10 00.
Local Information
Local voltage and plug type:
In Sweden, the main electricity supply is at 230 volts (50 Hz). Types C and F with 2 pins are the most frequently used electric plugs in the country.
What side of the road for driving?
In Sweden, you have to drive on the right side of the road.
Things to do in Stockholm
There are a number of activities to suit all ages and interests in the region - see a selection of tourist activities in Stockholm, Sweden.
Services at Stockholm Arlanda Airport
Useful Information about Stockholm Arlanda Airport