Stockholm Arlanda Airport Car Parks
Unbeatable Value Airport Parking
Compare Parking Prices at Stockholm Arlanda Airport
checkBest price guarantee
checkCompare all parking operators
checkOver 4 million happy customers
checkOptions for all budgets
checkFree no-hassle cancellations


Useful information about airport parking at Stockholm Arlanda Airport
The Stockholm Arlanda Airport is accessible by road from Stockholm center by taking the E4 northwards and follow signs towards the airport. From Uppsala, you should follow E4 southwards and follow the signs towards the airport. The journey to and from the city center of Stockholm takes about 40 minutes.
The address of the ARN Airport can be found below:
Stockholm Arlanda Airport
190 45 Stockholm-Arlanda
Sweden.
If you have any questions or concerns you can contact Stockholm Airport by telephone on +46 10 109 10 00.
Parking Options at Stockholm Arlanda Airport
You can fast and simply park your car at the designated car parking facilities at Stockholm Arlanda Airport. The parking lot at ARN Airport is a great space that gives travelers direct access to the airport terminal within minutes. It can help save time before your next trip, or if you are going to pick up or drop off a passenger. Stockholm Airport offers 22,000 parking spaces for all travelers to and from the airport. This number of parking spaces might seem rather high, however, during peak period it can be considerably difficult to find a parking space. Parking prices also tend to be very expensive at the airport
You can enjoy everything from premium parking, express indoor parking, express outdoor parking to long-term parking.
Premium Parking
Premium Parking is offered in a heated garage located next to the terminals. You will find a high-security level, so you don't have to worry about the safety of your car.
The premium parking spaces can be found at Premium SkyCity, which is only a 2 minutes' walk from Terminal 5.
Price without pre-booking is between SEK 380 per day.
Express Indoor Parking
With express indoor parking, you get a comfortable solution where you can park your car at an indoor parking space just next to the terminal. Like in the premium parking, security is highly present. Many families with children and business travelers use this as a quick and convenient parking option.
The express indoor parking spaces can be found at P22, P41, P53, P21, and P513 and is only a 2-minute walk from the airport terminals.
Price without pre-booking is between SEK 330 - 360 per day.
Express Outdoor Parking
Express outdoor is another option if you want to park just next to the airport terminal, however at a more economical solution.
The express outdoor parking spaces are located adjacent to Terminals 2, 3, 4 and 5 and can be found at P45, P46, P56, P57, and P58. All within a 2-4 minute walk from the airport terminal.
Price without pre-booking is SEK 260 per day.
Long-term Parking
Long-term parking is also available at ARN Airport. To get there, you will find a free shuttle bus available from any of the four terminals, leaving every 15 minutes. This is the most economical parking solution for all passengers.
The long-term parking spaces can be found at P1, P2 Beta, and P3 Alfa and is a 7-9 minute drive with the shuttle from Terminal 5.
Price without pre-booking ranges between SEK 599 per week.
Pre-book parking spaces
All guests can book a parking space in advance to be guaranteed a space.You can use the form above on this page for pre-booking a parking space.
Drop-off and pick-up of passengers at ARN Airport
All passengers at ARN Airport should use the airport's designated parking facilities when picking up or dropping off passengers.

Please follow the road signs pointing towards the parking areas for arrival or departure. The parking spaces are located next to Terminal 2, 4, and 5. This is just a 1-minute walk from the terminal. Here all passengers can park for up to 1 hour and there is no need to pre-book, unlike other parking options.
Price: SEK 100 per hour.
If you have any questions or concerns you can always contact a member of staff at Swedavia Parking at ARN Airport on telephone number: +46 (0)10 109 68 05.
Parking Operators at Stockholm Arlanda Airport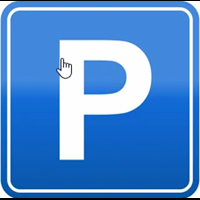 place
Connect Hotel Arlanda, Lindberghs gata 10, 195 61 Arlandastad, Sweden 195 61 | Show on Map
Car Parks at Stockholm Arlanda Airport
| Name | Address | Opening Hours | On Airport Grounds | |
| --- | --- | --- | --- | --- |
| Stockholm-Arlanda-P22 | SE-190 60 Stockholm-Arlanda, Sweden | - | done | |
| Stockholm-Arlanda-SkyCity | SE-190 60 Stockholm-Arlanda, Sweden | - | done | |
| Stockholm Arlanda Airport Hämta & Lämna Terminal 5 | SE-190 60 Stockholm-Arlanda, Sweden | - | done | |
| Stockholm Arlanda Airport Express Inomhus P53 | SE-190 60 Stockholm-Arlanda, Sweden | - | done | |
| Stockholm Arlanda Airport Långtid Inomhus P41 | SE-190 60 Stockholm-Arlanda, Sweden | - | done | |
| Stockholm Arlanda Airport Hämta & Lämna Terminal 2 | SE-190 60 Stockholm-Arlanda, Sweden | Mon-Sun: 00:00 - 24:00 | done | |
| Stockholm-Arlanda-P46 | SE-190 60 Stockholm-Arlanda, Sweden | - | done | |
| Stockholm-Arlanda-P56 | SE-190 60 Stockholm-Arlanda, Sweden | - | done | |
| Tullhuset Arlanda, Nedre parkering | Tullvägen 7, SE-190 60 Stockholm-Arlanda, Sweden | - | done | |
| Stockholm-Arlanda-parkering Mark | SE-190 60 Stockholm-Arlanda, Sweden | - | done | |
| Stockholm-Arlanda-P21 | SE-190 60 Stockholm-Arlanda, Sweden | - | done | |
| Stockholm-Arlanda-P45 | SE-190 60 Stockholm-Arlanda, Sweden | - | done | |
| Stockholm-Arlanda-parkering | SE-190 60 Stockholm-Arlanda, Sweden | - | done | |
| Apcoa | Kabinvägen 6, SE-190 60 Stockholm-Arlanda, Sweden | Mon-Sun: 00:00 - 24:00 | close | |
| Apcoa | Tullvägen 7A, SE-190 60 Stockholm-Arlanda, Sweden | Mon-Sun: 00:00 - 24:00 | done | |
| Stockholm-Arlanda-P53 | SE-190 60 Stockholm-Arlanda, Sweden | - | done | |
| Stockholm-Arlanda-P41 | SE-190 60 Stockholm-Arlanda, Sweden | - | done | |
| Stockholm-Arlanda-Premium Skycity | Tornvägen, SE-190 60 Stockholm-Arlanda, Sweden | - | done | |
| Stockholm-Arlanda-P51 | SE-190 60 Stockholm-Arlanda, Sweden | - | done | |
| Stockholm-Arlanda-P57 | Flygvägen 10, SE-190 60 Stockholm-Arlanda, Sweden | Mon-Sun: 00:00 - 24:00 | done | |
Map of Car Parks at Stockholm Arlanda Airport Frequently Asked Questions - Stockholm Arlanda Airport Parking
{"@context":"https://schema.org","@type":"ParkingFacility","name":"Connect Hotel Stockholm Arlanda Airport Parking","address":"Connect Hotel Arlanda, Lindberghs gata 10, 195 61 Arlandastad, Sweden 195 61","geo":{"@type":"GeoCoordinates","latitude":59.61174,"longitude":17.888548},"openingHours":"Mo-Su"}