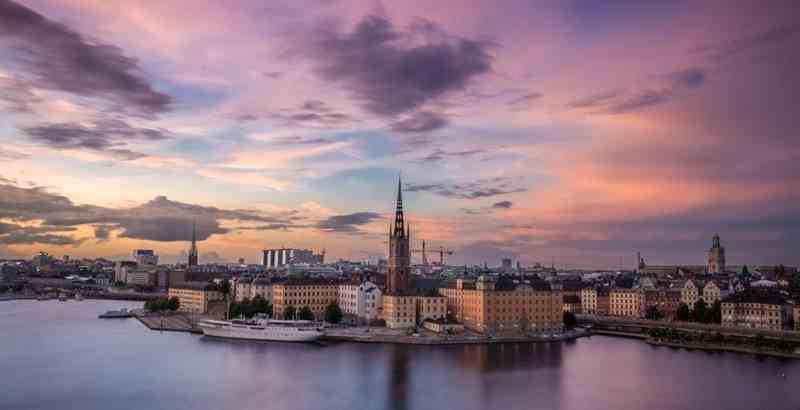 Stockholm Arlanda Tourist Attractions
All travelers that arrive at Stockholm Arlanda Airport can get to Stockholm City Center within a 40 minutes' drive from the airport. In the center of Stockholm, you will find a vibrant city atmosphere and many things to do.
Below you will find inspiration to some different, entertaining, and memorable tours you can enjoy together with your travel companion(s).
Stockholm Red Hop-on Hop-off Boat Tour Ticket
With the Stockholm Red Hop-on and Hop-off Boat Tour Ticket, you can start to experience Stockholm from the waterside. The ticket allows you to hop off and back on the tour boat at any of its stops, and as many times as you like.
On the boat tour, you will see some of the city's main attractions, including the Vasa Museum, the Old Town, the Royal Palace, and the downtown area with great shopping opportunities and restaurants.
During your tour, you can listen to audio tracks that are available in 10 different languages. Here you will hear some interesting information about Stockholm in your preferred language. All tour boats offer free WiFi connection, on-board toilets, and a café with Swedish fika, soft drinks, and coffee.
List of Boat Stops:
Royal Palace
Nybroplan
Vasa Museum
Skeppsholmen
Gröna Lund and ABBA The Museum
Cruise Berth S167
Fotografiska
Slussen
Stockholm: Skansen Open-Air Museum Admission Ticket
If you are interested in the everyday life of Sweden back in the 16th century, then you should get yourself a ticket to the Stockholm: Skansen Open-Air Museum.
Here you get to visit the world's first open-air museum and see up to 150 historically houses and farmsteads. You can learn about the living conditions of the Swedish people between the 16th century and the first half of the 20th century.
The open-air museum was founded back in 1891. It is located on the island of Djurgaarden within the city boundaries of Stockholm. Skansen is home to 75 different animal species, including wild animals such as brown bears, wolves, and elk. Guests can also enjoy a tasty meal at one of the restaurants that offer amazing views over Stockholm.
Stockholm: Old Town Walking Tour
On this 2 hours Old Town Walking Tour of Stockholm, you can experience what Stockholm was like in the middle ages. The Old Town, (in Swedish: "Gamla Stan"), is without a doubt the most mythical and legendary neighborhood in all of Stockholm. You will meet your guide at Kindstugatan 1, 111 31 Stockholm, Sweden, right underneath the big chestnut tree. From here, your guide will take you around the Old Town, while telling thrilling historical stories.
On the tour, you will hear about ancient events and fascinating stories. If you join the tour, it will almost feel like you stepped into a time machine and are taken back to the middle ages where noblemen, princesses, and dukes walked the streets. You will learn about the Stockholm Blood Bath, the legend of St George and the Dragon, as well as the cannonball, wedged in house façade.
This will be a tour that you will not forget for a long time after it has finished!
Full Day of Ice Skating in Stockholm
It is hard not to think of snow and ice when one mentions Sweden. So what would be better than a full day of ice-skating in Stockholm? This is exactly what you can get with this tour ticket. Get outdoors and enjoy the beautiful nature and the area's scenery, while having fun ice-skating.
This is what your 8 hours tour will include:
You will be picked up by a minivan at the agreed meeting point. From here, you will all head off to find the best ice conditions of that specific day.
Upon arrival, you will be given thorough safety instructions and the necessary skating equipment, so you are ready to skate. You will also be provided with instruction on techniques, which includes a nice balance between practicing as a group and as individuals. You will most likely improve faster than you might have expected!
Once the entire group is feeling more confident, you will move on and make a stop along the way to enjoy some lunch. By the end of the day, you will all be gliding over the ice, almost like a pro. This will be a fun tour not to miss!
UNBEATABLE VALUE CAR RENTAL

FREE
Amendments,
FREE
Cancellations,
NO
card fees!

airport_shuttle Need Airport Transfers?
Useful Information about Stockholm Arlanda Airport